Contact Center Voice Agent
CCAC, Skills-Based Routing, & Queue Callback (Callback Assist)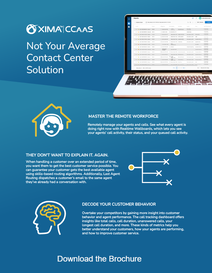 Choose a call flow routing algorithm to ensure your customers are handled in the most effective and efficient manner. Skills-Based Routing provides the ability for agents to navigate their different media channels. It allows you to create skills and assign certain agents in those skills. You can also rank each agent's expertise on certain skills from 1 to 10. 

Skills-Based Routing also provides the option to have your calls come in Linear, Circular, Most Idle, or Intelligent Highest Skill First. Each call flow pattern ensures your customers are paired with the most qualified agent based on the customers' questions. 
​
Each skill group can be configured with different queue announcements. Whether it be an announcement to tell the customer you're grateful for their patience or an announcement to tell your callers about a new promotion you're offering, the sky's the limit on the customization of your skill group queues. Naturally, there are some default announcements that exist within the software that are selectable, but if you don't like the phrasing, the accent, or perhaps it requires another language other than the six different language packs available, you can record your own and add it in. Other settings within the queue include timeouts or overflow settings, maximum number of calls in queue, and time-based routing to ensure your customers get to the correct agents in an effective and efficient manner.
Queue Callback (Callback Assist)
Give customers the option to stay on the line, reserve an agent, or leave their number and receive a call back when they are first in line. Each skill group can be customized with its own unique announcement. Provide your customers with a customized and personalized queue experience.
Monitor your current calls waiting and scheduled queue callbacks within Realtime Wallboards or Supervisor View. You can also route your queue callbacks to a lower priority skill group to ensure customers waiting on the line get answered first.
Contact Center Agent Client (CCAC)
Contact Center Agent Client (CCAC) allows agents to easily navigate between their active media, which includes voice calls and external web chats. Agents can also easily log in and out of different skill sets as well as enable/disable their Busy state.
Agents can also provide additional details as to why they logged in or out of a skill set or why they went on Busy by selecting from a defined reason code list. Agents can tag custom notes or predefined account codes to any call or web chat.
Additionally, managers can assign one or more wallboards to their agents so that the agents can view the information their manager wants them to see about their individual call statistics, the status of the other agents, current calls in queue and more.
Whether you're a reseller, an end user, or just a little curious, Xima CCaaS has something to fulfill your business needs.